replace your home insulation?
High energy bills, uncomfortable rooms, uneven temperatures and poor air quality in your home are some of the signs of improper, old or damaged insulation.
Insulation is a barrier to heat transfer, blocks heat from entering the home in the summer and holds heat in during the winter.
Simply put, proper home insulation prevents this flow of heat. You will only need energy to keep your home cool or warm, not the outside! The results are a cooler home in the summer without overworking your HVAC and warmer home in the winter, drastically lowering energy bills.
A proper home insulation really works and recommended by governments across the world regardless of which climate you live in.

No need to cut corners. Make sure you have the best and the right insulation installed by experts for maximum benefits. You could recover the costs  in less than a year through lower energy and servicing bills.

Home Insulation, Attic and Crawlspace Services
From the Bay Area Leaders
We install, replace or repair insulation depending on your home's needs. The result is significantly lower energy consumption and costs.

Attic and Crawspace Cleaning
We provide expert and affordable attic and crawlspace reconditioning. In addition to addressing structural issues such as rot and water damage, we remove decayed insulation, dust, debris, rodent waste and more. Your attic & crawlspace will be spotless when we are done.

Whether it's installing a brand new system or replacing your existing system, we will provide an honest and accurate assessment of your options. Our goal is to get your HVAC system running at peak performance and maximum efficiency.
Our mission is to help homeowners and businesses maintain a clean, healthy and comfortable environment.
We are the leading Attic professionals in the Bay Area
Attics & Crawl Spaces Cleaned
Air Ducts Installed/Replaced
Families Protected from Rodents
We moved into a new home that had rodents in the attics. Attic Crew was respectful, polite, and well-priced. Zabi was the Project Manager for our project and he takes such great joy in his work. He spent hours making sure all entry points were sealed and provided before and after photos. He used top tier insulation and cleaned our attic spaces to perfection. He was very professional and knowledgeable. He called on his way over, was on time, and worked very hard. I highly recommend this company and Omid too!
We needed some rodent proofing and all of the insulation in our raised house replaced. I was able to get them out for an estimate within days and schedule the work within a couple of weeks. The work was done in about 7 hours and looks fantastic. Everybody was very friendly, professional, and COVID safe. We will for sure use them again for other projects and can't recommend them enough.
AMAZING RESULTS!
Up in the attic there was old blown in insulation, I wanted remove it and cleanup droppings, I already want to do it last month but one company want charge me $6500! So I said NO!. i looking up here in google and found Atticrew have a five star and good review. I messaged here on google and they got back to me within two hours. I knew the attic SQ feet so they was able to give me an quote. The price was competitive and i felt ready to do it! I calling the following day and made appointment.
Joey and his crew arrived on time. They were very professional and considerate to our needs. We needed our old insulation swapped out and have our attic and crawl space rodent proofed. They did an amazing job at doing so. They did all the work beyond expectation. He was considerate enough to take pictures of all work completed and presented me everything. I would definitely recommend them to anybody, very professional company. Thanks again guys for all your hard work it is much appreciated.
Made from rapidly renewable organic materials rather than petroleum-based chemicals commonly used in other insulation products, ECOSE Technology reduces binder embodied energy by up to 70%, and does not contain phenol, formaldehyde, acrylics or artificial colors used to make traditional fiberglass insulation.
EcoBatt™ Insulation doesn't look like any insulation you've ever seen, but that's because its natural brown color represents a level of sustainability never before achieved.The color comes from ECOSE™ Technology, a revolutionary, new sustainable binder born from five years of intensive research.
How Home Insulation Works:
In the Summer
In the Winter
In the Summer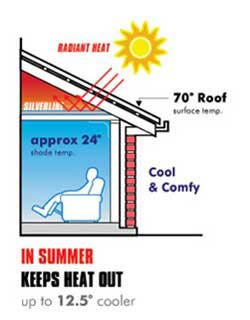 During the summer the suns powerful rays radiate down onto our homes, the roof and walls heat up and the temperature in the attic can rise to nearly 170 degrees.
This heat enters the home and causes things to become quite warm and uncomfortable. You then have two choices….turn on the air conditioning and watch the electric meter spin, or suffer with the heat. Homeowners often complain of an air conditioning system that runs all day and never cools the house below 80 degrees.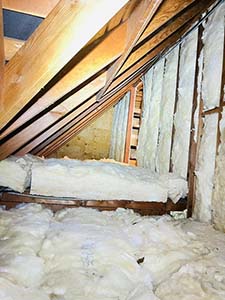 This is typical of a poorly insulated home, the heat is entering the home at about the same rate as your air conditioning can cool it.
The solution is to reduce the heat-load and block the heat from coming into your home.
Insulation installed in your attic and walls will dramatically reduce the amount of heat entering your home; the house stays cooler longer into the day and the air conditioning, when it does come on, runs much less often.
In the Winter
So what can Insulation do for you?
A well insulated home means the air conditioning and furnace system work less often.
Besides saving money on heating and cooling bills, the air inside the house does not get processed and cycled as much through your HVAC system, which means the air does not get nearly as dried out.
Insulation also serves to reduce outside sound from entering the home.
Let's get you an estimate
Ready to get your insulation under control?